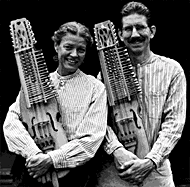 A couple of months ago I good-naturedly offered myself and Chris as ambiance musicians at an upcoming "Big Do" at the Swedish Museum in Philadelphia. The annual "Sillbord" is a dressup affair for well behaved adults. That sounded delicious but boring, so I inquired if they might like two charming characters in folk costume playing that traditional Swedish instrument, the nyckleharpa, during the nibbling hour. The landscape around here is very sparse of nyckelharpa players, in fact, Chris and I are the only ones I know of and we have only played for a couple of years, so it was perhaps a bit presumptuous of me to offer, but the words just fell out of my mouth and into the receptive ears of the museum's curator, and she in turn conferred with whoever needed to be consulted and thus the wheels were set in motion. I
committed the date on our calendar and proceeded to pack up and head west on a 4500 mile journey to Colorado to visit my Dad. I took the harpa along on the road and played passionately every day. Chris and I agreed on a new tune to learn while apart and then play it at the Sillbord event when I got back. No worries.
I have not yet identified any logic to account for when one's playing goes well versus when it doesn't. It appears to be a matter of the stars' alignment in the heavens on any given day, so basically, I just take it as it comes. Enjoy and bask when it is wonderful and fuss and pout when it isn't. This lack of predictability contributes in large measure to my general insecurity regarding all things musical. The thing is that it can be SO MUCH FUN to make music and occasionally be rewarded with the heady feeling of really riding that needle in the groove. No skipping or scratching, just solid contact and fine sound. Creating the moment and being carried away with it. Does anyone remember LP records? Of course that doesn't explain what prompted me to set us up for possibly laying a big egg in front of a couple hundred well-dressed and mannered people. I'm generally too oblivious to see the obvious, while Chris is a daredevil who'll try anything once just for the thrill of it. Truth is, we didn't really stop and think it through carefully. Pure folly.
The week before, we were vaguely aware of time passing and discussed briefly what tunes to play. The night before, we jammed for two hours with the rule that each piece was to be played in the standard AA-BB format three times, no starting over, just go with it once started. We had a great time and played well. Neither one of us felt the least bit of trepidation. Went to bed with a full deck of confidence.
Sill Day dawned with a persistent sense of imminent doom. Gradual suffocation. Panic rising incrementally. By noontime my normally ultra regular bowels had relieved themselves three times and I was starting to feel quite ill. Couldn't make solid contact with my world. A persistent monotone pinged inside my head and I had a sensation of crawly things setting up camp under my skin. Maggots. If Chris was nervous, he wasn't saying. In this unstable condition we decided to play a few tunes. Bad move. The playing went from awful to downright miserable. Full of dread we soberly packed up our instruments and went through the motions of dressing in our lovely Swedish costumes, brushing hair and teeth and generally aligning our physical selves with the reality that we had to get into a car and drive the hour south to the Museum. Had to show up and make good our offer. My bowels rumbled to life again. I told Chris I felt like a sheep being led to slaughter and wished emphatically for a hefty dose of morphine to put me out of my misery. Chris, who is usually not at a loss for soothing and calming words, remained silent.
The Swedish Museum is housed in a magnificent mansion set like a precious jewel in a lush park at the southern edge of the city. One enters through tall double brass portals into a large two story hall dominated by a broad grand staircase which pauses in a landing and then splits, right and left, and proceeds up to the balcony that circles the upper reaches. The vaulted ceiling is a masterpiece of murals depicting tense moments between the early Swedes and the local Indians. Very civilized, very elegant. We arrived in good time. A final trip to the Ladies (that's five). Tuned up, assumed our positions on the landing, looked at each other, inhaled deeply, closed our eyes and willed the terror to be gone.
And it was. Carried magically away by the first several notes of our harpas. Gone. No pinging. No maggots. No doom. Fear and anxiety? POOF! We smiled. We grooved. We had fun. The assembled guests nibbled, sipped and glanced at us now and then. Wistful smiles and tapping feet. We were with the music in another place. After an hour and a half the dinner bell rang, signaling the end. We attempted a hug, but the harpas got in the way so we slapped high fives and snuzzled noses instead. Cranking up one last tune—Gånglåt från Äppelbo—we moved the crowd toward the Sill. Our purpose was to create a festive mood, and this we achieved. A dozen kinds of marinated raw herring awaited us.
During and after dinner all sorts of folks migrated in our direction and shared harpa thoughts. Several spoke of something in their soul responding to the music and voice of the instrument. Did we understand what they meant? Yes, we know how that is. One bright-eyed, white-haired fellow declared that he started building a harpa twelve years ago and lost his way, encountering us renewed his enthusiasm he said. We directed him to ANA's website. One of our table companions was quite involved with the Kalmar Nyckel (a tall ship replica) in Delaware and said his organization had been given an old nyckelharpa and asked if we'd have a look at it for him. Yes, of course. A perfectly sincere youth asked where he could get a copy of our CD. We confessed in all honesty that the thought of recording had truly not entered our minds. A woman asked how often and at what sorts of events we "perform." I explained that we only play at events where we can be reasonably certain that no one is actually listening to us.
We survived, but oh, the suffering! Mildly akin to childbirth. You think you'll never EVER to THAT again, but you probably will.
Published in Nyckel Notes, November 1999, Number 17