How lucky can a person get? I seem to max out regularly and late June was no exception. I found myself once again in Sweden, this time under the protective wing of my good buddy Peter Hedlund. Peter is among Sweden's nyckelharpa elite, having won the title World Champion in 1992. Not bad company if one is as nuts about nyckelharpa stuff as I am. Keep in mind, I'm just a hard working girl from the I-wish-I-could-play-like-that Department. What I lack in talent and skill, I make up for in sheer, unbridled enthusiasm. That said, I thought I'd share the first weekend of my two week sojourn in Sweden, the summer of 2000.
Peter and I packed sleeping bags, tent, harpas and video equipment and drove south a few hours from Hälsingland, where he lives, to the annual stämma in Österby, Uppland. A stämma is a traditional folk music jam of any size. This year, the event was also host to the biannual World Champion Nyckelharpa Competition, the same one Peter had won eight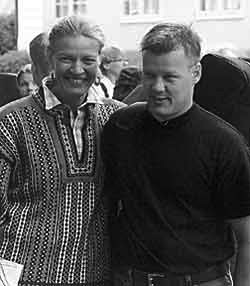 years earlier. Sören Åhker and his wife, Eva, were already set up in the camping area with a big four man tent which they offered to share with us. As it was nippy, we figured that four bodies make more heat than two, and thankfully accepted. Sören is a maker of very fine nyckelharpas, including both mine and Peter's. Other good friends who cover the stämma circuit together were camping in close proximity, and I felt honored to be welcomed into their fold. As I said, it was pretty chilly. Peter's wife, Karin, had loaned me a warm leather jacket and her grandmother's fuzzy knitted wrist warmers. When we bade adieu to Karin earlier in the day, she stuck out her lower lip in a pout and said, "Please think of me ALL the time." Karin is a fabulous fiddler. Peter explained that Österby is sort of "his stämma" and he always goes by himself. Did he mind me? I wondered. Looking over his glasses and down the ski-slope nose at the intruder in his car, he assured me that I was welcome.
Swedish midnight in June wears only a sheer frock of light dusk, making it easy to completely miss the night and forget altogether about sleep. This was a small matter, for the camaraderie was wonderful and the music constant. Bow wielding passion saturated the night with melodious harmonies, foot tapping, laughter and good mirth. I tried to join in the playing, only to discover a severed connection between my brain and my hands, a nasty mix of chilled-to-the-bone and nervous angst amongst the natives. Beer and various spirits were offered and shared. These libations made me a bit nervous at first for I had never previously indulged. Ever. I pondered hard and decided I was in the midst of an out-of-life experience. "Yes, thank you," said I, and sampled the offerings. I rather enjoyed myself while Peter grew increasingly worried that I might be enjoying myself a little too much. How would he explain to my husband, Chris, what befell Rita while under Peter's vigilant custodial care? He needn't have worried, Rita just warmed up and radiated a healthy glow.
I had sent Sören a cowboy hat earlier in the year and was amused to find that he had taken a shining to it. Peter sported flashy leather racing duds from the Indianapolis Motor Speedway and a hat exactly like Sören's. They were an amusing and endearing pair in their getups. Around two in the morning, Eva and I retired to our tent, but not before dancing a wild slängpolska in the grass to Peter's tune, "Polska på Fläcken," played by everybody. Eva is a warm, robust, and earthy woman. The cowboys followed in short order. Removing boots and earrings, I crawled into my bag, sandwiched between the two guys. What an arrangement! I considered myself a lucky woman. Sören and Eva didn't unbutton either. Peter, on the other hand, stripped right down and lectured the rest of us on the virtues of sleeping unclad. The frigid summer temperature was a thin sliver above frozen solid, and my zipped-to-the nostrils bag wasn't nearly enough to keep the shivering shakes at bay.
Saturday morning. Competition day. Music filled the campsite long before consciousness stirred in any of our heads. Unfurling to greet the new day around nine, none of us knew whether or not Peter would play or even participate in the competition. I don't think even he knew at that point. He seemed concerned only with the joys inherent in the tune of the moment and the musical interaction and communion of trusted friends together. I studied Peter and his interactions more than one would normally, perhaps, for I was also filming him as part of a project we are working on together. After coffee, I put on my baseball cap and headed for the stämma grounds with video gear in tow. I was on duty with a job to do. All business.
I had secured prior permission from the event organizers to film the proceedings on behalf of the American Nyckelharpa Association with intention of editing, reproducing, and ultimately offering for sale the resulting video. My task these two days was to get as much good raw footage as possible. I had a fine new digital video camera and an amazing auxiliary microphone. In other words, I was primed and ready to roll.
Österby ironworks, with its lovely setting, was host to the weekend festivities. A beautiful manor house. Lots of wagon houses and stalls. Huge old trees and park like surroundings. A large waterway with floating lilies in bloom and an abundance of aquatic fowl. Music everywhere. Small groups and large groups. Hardy veterans of the circuit. Well used and banged up old harpa cases seemingly held together by souvenir stickers representing different stämmas all over Sweden. Socializing and joy.
"Let's play a tune."
"Do you know this one?"
Bright colors. Beautiful, cool, crisp weather. The "backyard" boasted grand avenues of mature trees and broad lawns. A rear terrace decorated with quivering birch branches served as the stage. The sound system was manned by a guy named Roger who had a mixer in the back of his car parked in the shade on the sidelines. Wooden plank benches awaited an audience.
Musicians normally sign themselves up if they want to compete for the World Championship. I knew for a fact that Peter had not signed up. None the less, when the list of contenders was posted, Peter's name was on it. Gunnar Fredelius was later suspected of the deed. But would Peter play? None of us had the courage to ask him, perhaps feeling it was too personal to intrude on his decision making. That's how I felt anyway.
I positioned myself front row center, rump on the grass, back leaning against a saw horse bench support, and pulled up the knees to serve as bipod for my video camera. It was important that I get every moment on film. First up was the Gammal Harpa Class, with nine first string contestants. The well-seasoned Ingvar Jörpeland appeared as a turn-of-the-century bon vivant, impeccably black suited with lots of small vest buttons and the requisite round bowler hat, which he placed primly on the ground next to his chair. This looked very nice through my lens. A kinetic youth in black leather and tousled hair, Daniel Pettersson, played a Mora harpa made by his father. Looking through my lens, I thought, "Oooh yes, he's the one."
After a short break, thirteen more masters of the genre vied in the Modern Harpa Class. Anna-Kristina Widell, whom I ran into last year in Lindsborg, Kansas, played first. She was amazing, composed and mature. Everyone played two selections. Eventually, Peter was announced. He materialized wearing his Leydon Restorations T-shirt, which warmed my heart and made me chuckle, smiled, and proceeded to blow us away, playing Ragnar Berglund's "Knäppgöken" and Tore Zetterström's rendition of "Vals från Karlholm."
A potpourri of fabulously skilled and dexterous younger contestants, balanced by deliciously ripe veterans, all strutted their stuff. They all wowie kazowied me ... but our Peter out distanced them all. It was a done deal. No contest. The whole thing took about two and a half hours.
The honored jury consisted of Curt Tallroth, Nisse Nordström, Sigurd Sahlström, Gunnar Fredelius, and Jan Ling. Earlier in the day, I saw Curt Tallroth, whom I have met several times before. Noticed his beautiful smiling face in the crowd and had to go say hello. Shaking his hand, I asked if he remembered me. "How could I ever forget you?" he said, grinning broadly as he squeezed my hand, holding it securely for a moment with the other hand as well. I felt honored and validated. A small but meaningful kindness. Halfway through the competition, Curt collapsed in his juror's chair and was taken to the hospital where he stabilized.
Afterwards, I was totally spent. I had struggled to keep the camera from shaking during the last several candidates. My knees quivered. My left calf cramped each time I shifted. My back was in agony from tension and pressure against a saw horse. I was a wreck. Trembling with fatigue and chill, I packed my gear and went straight to Peter, declaring emphatically that I needed a therapeutic, bone crunching squeeze around my middle. He was most accommodating. Leaning way back, all the little bones popped sweetly back into alignment. Ahhh! He suggested that, if one was good, two might be better, and gave me another vice grip squeeze. Ohhh! Appeased, I wandered off in search of food.
After food, I walked around the grounds and filmed folks enjoying themselves, ending up at the wagon house dance. It was jam packed with gammal-dancing and smiling people. I peeled off some layers and asked a wall flower if he'd like to dance. He looked ecstatic, which I took for a "yes." After forty-five minutes I had enough. Dripping with sweat and happy, I said, "Thank you very much," and left.
Went straight to the ballroom in the manor house in search of an electric outlet to recharge a battery for my video camera. I plugged in and collapsed on the floor. Lay there listening to twenty, perhaps thirty harpas. Folks coming, joining in, going. It was wonderful. I didn't miss my own harpa for I was too exhausted, and besides, my repertoire is pretty limited. These folks were amazing ... gazing around, bows flying, fingers finding keys in unison. Didn't seem to be fumbling or in a panic like I would have been. No, I was fine, lying there in my soaked shirt, listening and charging my battery.
Later, I came upon Peter hunkered down over a very nice looking, personal size pizza in a box on his knees. I could see he was intent on eating it himself. He certainly deserved it. I was hungry and cold and stood there looking and salivating. He was cutting bite size pieces and chomping with singular purpose. He wasn't offering me any. What a rat, thought I, and snatched the next piece he cut. He glared at me. Trying hard not to smile, he continued cutting and I continued taking every other bite. Finally he said, "You know that no one else would dare do that."
"I know," said I and glared back.
As Saturday drew to a close, the group migrated back to base camp and the warmth of one another. It was way too cold to play outside, each breath condensing to a vaporous cloud in the chill night air. We squeezed into a camper for a few hours of jovial socializing. Some of us hiked over to the wagon house and two stepped to Hasse Gille's jazz band for a bit. Hasse was sad for his best friend and playing partner, Kurt Södergren, had just died the previous week. They made that recording called "På Vårat Vis" (In Our Way) that Chris likes so much.
Sunday morning wasn't much warmer. Caloric sustenance was on a table and each helped himself. Hot water with instant. We were a motley crew by then. I left camp early to experience the stämma proper. Busk spel (literally, playing in the bushes) is the time honored core of any stämma. Spontaneous music from the heart popping up everywhere like mushrooms in a damp, dark forest.
I caught up with Peter after a while. Folks were congratulating him right and left, saying he was Number One no matter what the judges decided later in the day. He just smiled. The man's got a killer smile.
The public was expected in the afternoon, and they in turn, expected a musical program. I positioned myself center front as before. Glorious sunshine. Very large audience. Standing room only. A couple of hundred nyckelharpas and fiddlers of all ages and skill levels made a grand entry from two directions simultaneously playing the classic "Gånglåt från Äppelbo." There were flags, banners, birch branches, bright costumes, and pomp and circumstance. I filmed away, feeling like a pro and thankful for the show. Hasse Gille led the "allspel" splendidly from a perch high above the stringed multitude. A distinguished lady in folk dress, Birgitta Dahl, Sweden's "Riksdags talman," officiated and started the proceedings. Many different performers came before us and they are all on my film.
At one o'clock, it was time to announce the two winners of the 2000 Nyckelharpa World Championships. Gammal Harpa Class went to the tousled youth in black leather with his Mora harpa, Daniel Pettersson. I wasn't surprised. Daniel took us on a victory lap in his signature kinetic style. Then I held my breath and thought mostly about keeping the camera still. Gunnar Ahlbäck, the Master of Ceremonies, spoke at length about the great difficulty of judging, then declared Peter Hedlund, whom he referred to as "the old man," winner of the Modern Harpa Class. The old man turned all of forty-three a couple of days later. Déjà vu. "Is Peter here?" wondered Gunnar. Peter took his good old time to appear, casually mounting the stage with his gig bag slung handily over a shoulder and peering around with amusement over small dark glasses resting on the ski-slope. I was a'burstin'my seams, smiling so hard my cheeks ached, and trying to be super calm for the sake of my art. The bipod was a'knockin' and a'shiverin' from cold and excitement. Peter accepted the audience's ovation, played "Spelmansglädje" with aplomb, and bowed humbly to his public.
I hastily threw video gear into my canvas bag and ran to congratulate my friend. Everyone wanted to shake his hand and offer best wishes. I gave him a good squeeze and gushed how supremely proud I was. Reassembling my camera, I shot a few minutes of adoring fans swarming Peter, then the rest of the afternoon's program. I was elated and relieved, for I had five hours of solid footage with incredible sound. My friend was King of the Mountain, and all was well.
Peter was insufferably modest and humble, insisting it was nothing, really. I was immoderately jubilant with tingling toes that didn't quite reach the ground. I loved being part and witness to Peter's victorious moment. Peter pointed to his watch and said soberly, "Let's leave in about an hour," bringing me back to earth with a thud. He asked if I'd rolled up my sleeping bag yet. I hadn't. "I rolled up mine," said Mr. Goody Two Shoes. "Why didn't you just roll up mine at the same time?" No answer, just the smile. I quickly covered the circuit, saying all my goodbyes. Then I remembered the sleeping bag. Peter, hands on hips, shook his head as if to suggest I was just about impossible. He informed me tersely that my bag was now rolled up. Such a boy scout! "Ok, let's go." We called Karin from the car to say we were on our way. Peter forgot to tell her the big news. Jeez! I made eye contact and gestured wildly . . . "Oh, yes," he stammered, "and I won the Championship again." Karin squealed with delight and surprise at the other end. After a few hours of driving north, we were back in the real world. Karin and the boys welcomed the two reeking campers with buoyant enthusiasm. Peter went straight to bed.
I showed Karin my footage of Peter's performance. She shuddered visibly at a particularly difficult passage and said it was good she hadn't been there for she would have been too nervous. Peter had fetched me at Arlanda airport early Thursday morning, and between then and when he competed on Saturday, he hadn't practiced at all, just horsed around with his pals at the camp site. And yet, when it was time, out came the music with majesty and strength and beauty and soul.
The younger competitors were technically superb and obviously in love with their music, still, I missed something intangible and indefinable in their presentations. A lack of depth perhaps. Soul maybe. I chewed on this for a while with Karin. "Yes," she said finally, "one needs to have experienced life in order to put forth rich, true music ... and one needs to have suffered a bit." I think she's right. Over a cup of tea later in the evening, she told me that when Peter was about twelve years old, he won a prize for having the dirtiest feet in camp. That's my kind of guy!
Photo by Per-Ulf Allmo
Published in Nyckel Notes, August 2000, Number 20